NEWS
EXCLUSIVE: ICONIC theatre Gaiety-Galaxy completes 50 years; film experts and movie buffs go down memory lane: "The queues for Dilwale Dulhania Le Jayenge's advance booking had gone right upto the MAIN ROAD…Shah Rukh Khan sat at the ticket counter had sold the tickets of Baazigar"
Today, November 24, is an important day for the Hindi film industry and also for Mumbai. 50 years ago, on this very day in 1972, G7 Multiplex, popularly known as Gaiety-Galaxy cinema complex, began its operations. Ramesh Sippy's much-loved Seeta Aur Geeta (1972) was the inaugural film. Since day 1, the theatre became a go-to place not just for filmgoers but also for celebrities. Soon it became a barometer and as trade analyst Atul Mohan said, "Agar Gaiety-Galaxy mein public aa gayi matlab picture chal gayi. Nahin aayi toh nahin chalegi."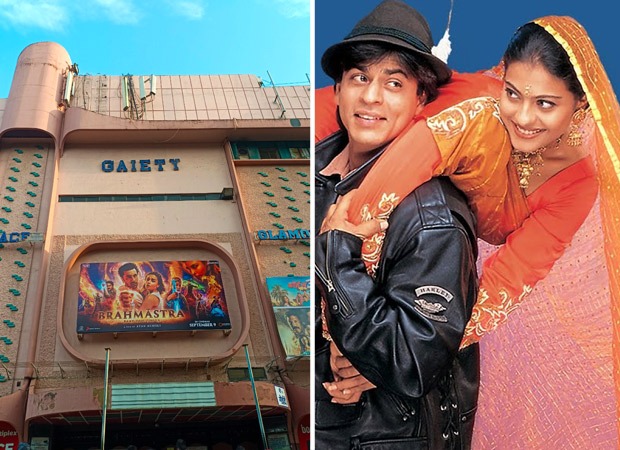 EXCLUSIVE: ICONIC theatre Gaiety-Galaxy completes 50 years; film experts and movie buffs go down memory lane: "The queues for Dilwale Dulhania Le Jayenge's advance booking had gone right upto the MAIN ROAD…Shah Rukh Khan sat at the ticket counter had sold the tickets of Baazigar"
Architectural wonder
G7 multiplex originally started with just 3 theatres – Gaiety, Galaxy and Gemini. Gaiety and Galaxy are the biggest screens, consisting of a stall and balcony. While Gaiety is the bigger one, comprising nearly 1000 seats, Galaxy has around 800 seats. Gemini with just one class has around 240 seats, meanwhile. The entrance to Gaiety and Galaxy is separate. If you wish to catch a film in Gemini, you need to enter from Galaxy as the small-sized theatre is located above the balcony of Galaxy.
In the late 90s, the management added 4 more theatres. Grace, the preview theatre, which is not open to the public, was constructed above the balcony of Gaiety (although some experts claim this theatre always existed). Gem, located next to Galaxy's stall and Glamour, constructed between Galaxy's stall and balcony, has just around 45 seats. Many moviegoers, including this writer, were stunned to see a theatre of such a small size in that era, at a time when small-screen multiplexes didn't exist. And finally, there's a 105-seater Gossip. This cinema hall also has a separate entrance, at the back. For a newbie, this cinema complex is nothing short of an architectural wonder.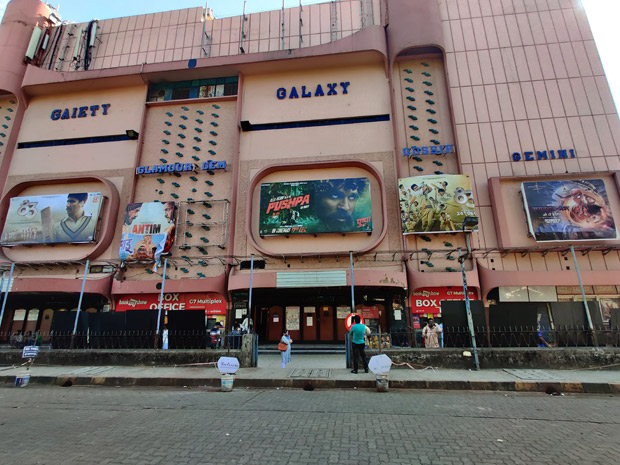 At any given moment, at least 5-6 films are playing in G7. Gem and Glamour, at one point, were the ideal venues to catch non-massy Hollywood films. But later, the practice was discontinued and now, the management of G7 prefers showing regional, small Hindi films or holdover releases in these twin mini theatres.
History
Manoj Desai, executive director, G7 multiplex and Maratha Mandir Cinema, exclusively told Bollywood Hungama about who constructed this iconic theatre. He said, "In 1970, Mr Narottam Nensey aka Cotton King and builder F N Daroga came together and built this theatre. Seeta Aur Geeta was the first film that was screened here. At that point, there were only three cinemas here – Gaiety, Galaxy and Gemini. I joined as a supervisor when the theatre started. I was paid Rs. 320 per month." When asked about the ticket prices then, he replied, "It was Rs. 2.20 for the stall and Rs. 3.30 for the balcony."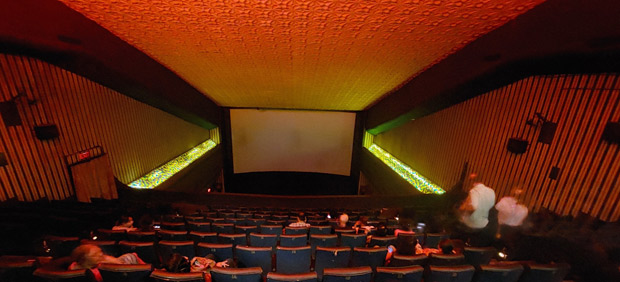 He continued, "In 1979, Mr Kasturchand Nahar aka Mr K C Nahar bought the theatre. And now his son, Mr Arun Nahar, is the managing director while I am the executive director." The late Mr K C Nahar's garlanded photograph has been prominently put up in Manoj Desai's G7 office.
Manoj then explained how the theatre was expanded, "Mr K C Nahar told me in the mid-90s that he wants to add more screens. I told him that it won't be possible as we have the license to run only three cinemas. You won't believe, just a week after this discussion, the Maharashtra government introduced the multiplex scheme. Govind Swarup was the principal secretary at Mantralaya. He asked me about my plan. I told him that I have three store rooms – one next to the stalls of Galaxy, one between the stalls and balcony of Galaxy and the third one behind. I expressed the desire to build Gem, Glamour and Gossip in these three spaces. There was also some empty space above the balcony of Gaiety. I told him that there, I want to construct a preview theatre, named Grace. Every theatre's name starts with G and hence, it's called G7 multiplex. After completing all the procedures, the additional four theatres were constructed and thrown open to the public in 1999. I sat and day night and made these theatres. There was no architect hired!"
Manoj Desai also said, "Gossip, in my opinion, is the best. Also, it is convenient. The parking lot is next to Gossip. It has a separate entrance and you can easily enter and exit from there."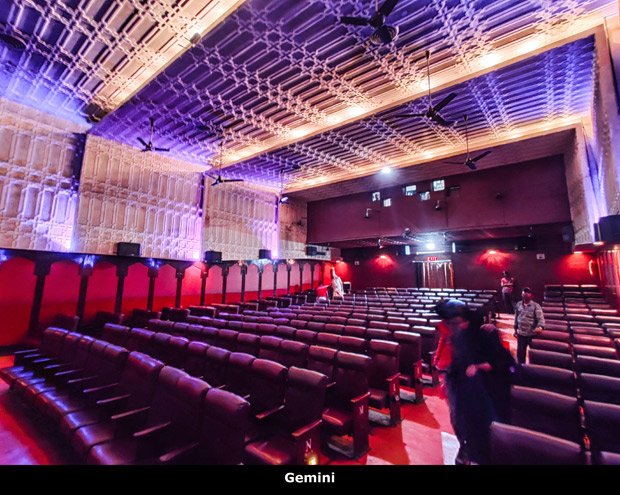 Since it's located on the ground floor, many senior citizens prefer Gossip. To this, Manoj Desai said, "In fact, even in other cinemas, they comfortably are able to go. Hum toh wheelchair upar tak le jaate hai. For senior citizens, we have the facility of an elevator. The elevator is only for those who are watching the film in Gemini as it's above Galaxy. But if you are a senior citizen, you can use it to go to any theatre. In fact, the lift opens inside Gem and Glamour as well. Imagine, an elevator that directly takes you inside the cinema hall!
At one point, Gaiety-Galaxy was an important theatre for film premieres, "A lot of premieres have happened. Tab producers mein himmat hoti thi premiere karne ki! Ab nahin hai. But a lot of promotions happen. Song launches take place here and also stars come to see the audience reaction as you get the best reaction here."
In recent times, songs of films like Bhediya (2022), Vikram Vedha (2022), Kalank (2019) etc were launched here. Salman Khan launched the trailer of Kick (2014), and it was a memorable affair. Then, actors often come to see audience reactions to their films. Actors getting mobbed by thousands of fans and onlookers makes for a good viral post.
The most memorable star visit was when Ranveer Singh made his presence felt on the day Simmba (2018) got released. The ever-excited actor even climbed the foyer and which added to the excitement. Even Varun Dhawan and Alia Bhatt climbed and posed next to the poster of their film Kalank during the launch of the song 'First Class'.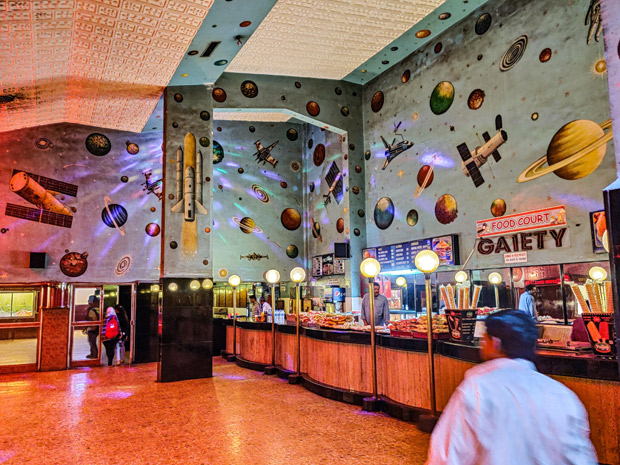 Manoj Desai remarked, "The location is strategic. Every 2 minutes, the trains pass from here since the railway tracks are next to the theatre. There's a railway crossing close by and hence, several trains are forced to halt. So several moviegoers look at G7 multiplex and get curious. Secondly, Bandra Terminus is located opposite. You won't believe, people stand on the bridge of the terminus aur wahan se log promotion dekhte hai!"
Trade and film fans speak
Trade veteran Taran Adarsh said, "It was the most prime theatre of Bandra those days. Of course, there were other theatres around like New Talkies, Neptune, Nandi, Bandra Talkies, Kala Mandir etc. But Gaiety-Galaxy-Gemini was the crown (smiles)! All major films had to release here. A lot of times, stars used to come there to watch films that they were not a part of it. In short, they'll come there as viewers. I have seen a lot of actors come there. They'll enter when the lights went off and will exit before the lights came up."
Atul Mohan continued on this topic, "Those days, people would go crazy as seeing a star was a big thing then. The actors used to be exclusive, unlike in today's times." He also revealed that "I believe Mithun Chakraborty or Govinda had come wearing a burqa. And the public had found out."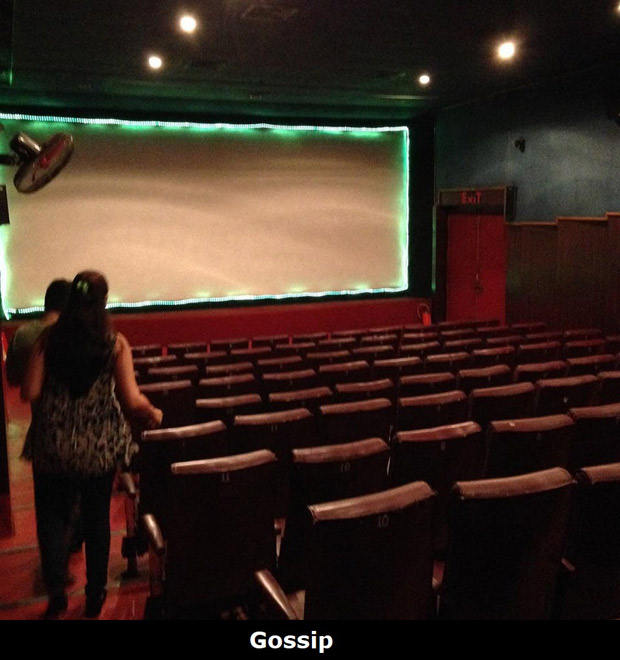 It soon became a theatre for every strata of the audience and this is something that continues even today. Taran Adarsh noted, "When we had to watch films with families, the first thought would be 'Gaiety-Galaxy chalte hai'."
Atul Mohan, to this, added, "The stalls used to be frequented by frontbenchers or the 'tapori crowd' and the balcony would be patronized by the family audiences. So, at times, stalls would be empty while the balcony would be full of viewers, for films that didn't cater to the masses. And at times, it would be vice versa"
Taran Adarsh then went down memory lane to list his film outings and film events which took place at G7, "I had seen Kuch Kuch Hota Hai (1998) to a packed audience. Amitabh Bachchan's films usually used to come in Gaiety-Galaxy. And he was a major star those days. Amar Akbar Anthony (1977) was one of the most iconic films that were played there. We couldn't get its tickets. In fact, Manmohan Desai used to say, 'Jab bhi Bandra aata hoon, main Gaiety-Galaxy ka chakkar maar ke jaata hoon. Dekh leta hoon ki kaunsi film chal rahi hai aur kaisa kar rahi hai'!"
Amar Akbar Anthony completed 50 weeks here, proven by the fact that its golden jubilee trophy has been displayed proudly on the ground floor. Many other such trophies are displayed, and one that stands out is the Silver jubilee trophy of Koi Mil Gaya (2003). Interestingly, it features the alien Jadoo.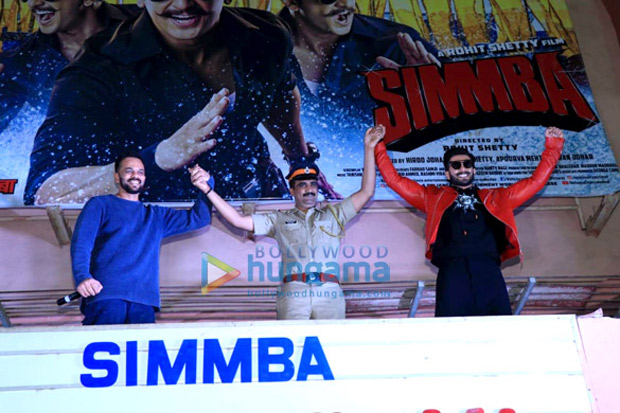 Taran Adarsh then said, "I had seen Betaab (1983) in the preview theatre with Dharam ji (Dharmendra) and Javed Akhtar. I also remember attending the premiere of Phool Aur Kaante (1991). Look at the camaraderie of the industry then. Phool Aur Kaante and Lamhe (1991) had released on the same day. Anil Kapoor was the lead in Lamhe and he was the chief guest at the premiere of Phool Aur Kaante. And he attended. Aaj aisa koi nahin karega, especially if your film is clashing with that film."
He added, "The mahurat of Khuda Gawah (1992; produced by Manoj Desai) was memorable. It was the first time the trailer was shown at the mahurat, featuring the horse chase scene."
Bollywood screenwriter Kiran Kotrial, meanwhile, stated, "My memorable experience was watching Ishq Vishk (2003)'s first day first show. Based on the response there, I knew ki yeh film accha karegi. However, at times, it used to seem like producers used to send paid crowds to Gaiety. They would purposely whistle and hoot and try to make a perception that audiences overall are loving the film!" He also remembered shooting for TV shows not just in the outside premises of G7 but also once in the projection room, with actor Jaaved Jaaferi.
Trade expert Komal Nahta reminded another reason which G7 is famous or rather infamous – Black ticketing. He said, "The black marketeers used to give a good indication about where the film is headed. People used to ask 'Blackies ne ticket kharidi ki nahin'. Based on that, one could gauge whether or not the film is hot."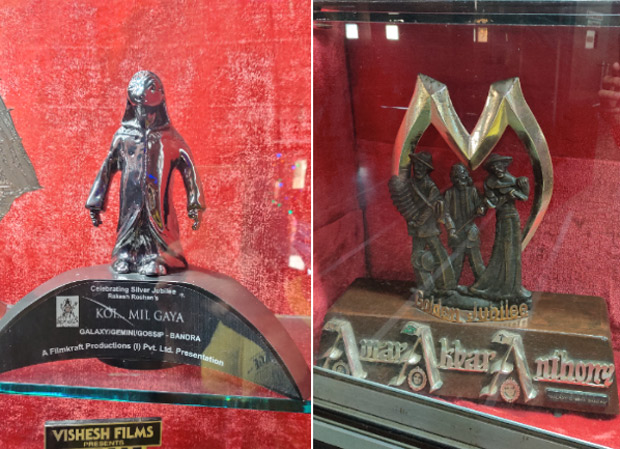 Regarding a memorable experience, Komal Nahta revealed, "The queues for Dilwale Dulhania Le Jayenge's (1995) advance booking had gone right upto the main road."
Film buff and expert Alex Almeida recalled, "Shah Rukh Khan sat at the ticket counter had sold the tickets of Baazigar (1993)'s charity show, which was held at Gaiety. He even signed on each ticket."
He also has a crazy advance booking story to share, "I and my friends had gone to book tickets of Phir Hera Pheri (2006) very early in the morning, on Wednesday. The queue was so long that it extended up to the parking lot behind. The ticket seller had made it clear that he will not sell more than 3 or 4 tickets to a single person. Thankfully, I had taken a few friends with me. We needed around 11 tickets and each of us took 3-4 tickets!"
Conclusion
The theatre suffered a blow owing to the pandemic. But it is slowly bouncing back and thankfully, the crowds are back here, just like in the old times. The pocket-friendly rates have also helped it sustain itself.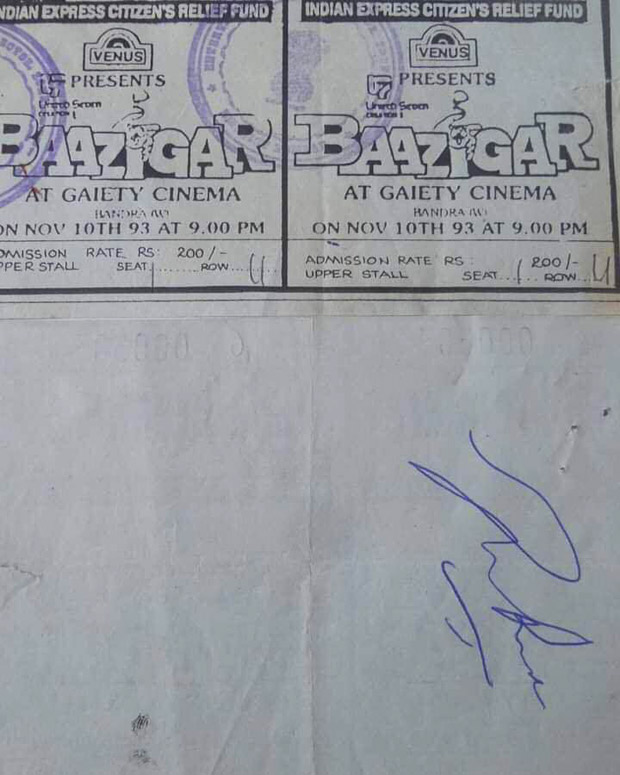 Kiran Kotrial noted, "Manoj Desai has always been a compassionate exhibitor. He has always kept the audiences' pockets in mind. The ticket rates have never been unreasonably high. Even if I go from Worli to G7 and pay the sea-link toll, my overall expenditure will be quite less compared to going to any multiplex. This is because not just the ticket rates but even the snacks are cheap and so is the parking fee in the theatre. This is one of the big reasons why Gaiety-Galaxy and Maratha Mandir have survived even today. A lot of other theatres shut in the vicinity but this theatre kept growing."
Taran Adarsh said, "One of the few theatres that have stood the test of time," while Atul Mohan smilingly remarked, "Jahan pe kitne filmon ne golden jubilee kiya, ussi ka golden jubilee ho raha hai!"
Finally, Manoj Desai felt blessed to see the love that Gaiety-Galaxy continues to receive. And for him, it is a double celebration this week, "I got married on November 25, 1972! So while Gaiety-Galaxy completes 50 years, I complete 50 years of my marriage!"
Also Read: EXCLUSIVE: FED UP with Bollywood films flopping left, right and centre, Manoj Desai reduces ticket prices at Gaiety-Galaxy and Maratha Mandir to Rs. 130 and Rs. 150
BOLLYWOOD NEWS – LIVE UPDATES
Catch us for latest Bollywood News, New Bollywood Movies update, Box office collection, New Movies Release , Bollywood News Hindi, Entertainment News, Bollywood Live News Today & upcoming movies 2022 and stay updated with latest hindi movies only on Bollywood Hungama.